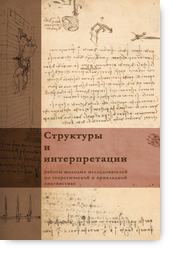 We proudly present the proceedings of the previous MSCL. This time we will also edit a proceedings volume, more details to follow.
Структуры и интерпретации
Ф. И. Дудчук, А. В. Подобряев, Н. В. Ивлиева (ред.). — Москва: Издательство Московского университета, 2007.
Structures and Interpretations
edited by Philip Dudchuk, Natalya Ivlieva, and Alexander Podobryaev. Moscow University Press, 2007.