Publication Guidelines
We expect the proceedings of FDSL 7.5 to be published by the Peter Lang Publishing house. The submission deadline is March 15, 2009. The papers should be no longer than 15 pages including references. The authors are asked to follow the FDSL 7.5 formatting guidelines (PDF-version). You can directly write in the DOC-version of the guidelines. Unfortunately, we cannot accept LaTeX-articles.
Please send your papers in both DOC and PDF formats to fdsl7.5@gmail.com.The body of the e-mail message should contain the author's name(s) and the title of the paper. Papers will be reviewed by one external and one internal reviewer. The reviewing procedure is expected to take about one month. We will ask you to finalize your papers in 3-4 weeks after you get the reviews.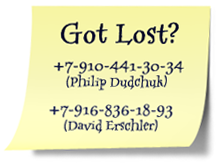 Registration
Before the conference. All participants except for presenters and invited speakers are kindly asked to register by e-mail. There will be an onsite registration, but we ask you to register in advance for us to figure out how many people will attend the conference. To register send us a message with the following information:
Name
Afilliation
E-mail
Whether you would like to have a conference booklet (abstracts and practical info)
Onsite Registration. The registration fee is 30€. Besides that, those who got formal faxes for visa are kindly asked to pay additional 35€ (this amount was charged from the organizers for each invitation by the travel agency). The registration fee should be paid onsite in cash (euro or roubles) onsite (nor checks neither credit cards are accepted).
Fee waiver. The registration fee is waived for the invited speakers, local IUM/MSU people, and for all participants who do not give a talk. If you would like to be considered for a registration fee waiver, please contact us at fdsl7.5@gmail.com.
Venue and Accommodation
The conference will be held at the Independent University of Moscow. It is located in a walking distance from Smolenskaya and Kropotkinskaya subway stations. The full address of the IUM:
11, Bolshoy Vlasyevsky pereulok (lane)
119002 Moscow
Below you will find a map displaying the conference site and some hotels and hostels with affordable prices, which we recommend for your stay in Moscow (though the map is operable, you can view it on Google Maps to have more functions). Click an item to see its description.
Consider also rates of the indicated ho(s)tels and the ways to book them
(1€ = 34,8 RUR, $1 = 27,3 RUR).
You can find more Moscow hostels on HostelWorld.com. If you experience problems with fax/on-line booking, feel free to contact us, we can call directly to the hotel you are interested in, and book a room for you.